See on Scoop.it – Mobile learning for students and teachers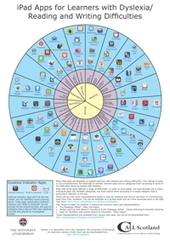 We have produced a 'Wheel' of iPad Apps for Dyslexia / Reading and Writing Difficultiesas a visual aid and reminder for some of the many apps that are available to support learners with dyslexia. It is designed to be used as an A3 poster, but the electronic PDF version is also useful as it links directly to the various apps that we have included.
It is impossible to include every app that can be useful for learners with dyslexia so we have only included a small representative group for each category. We are happy to take suggestions for other apps that could be included in later versions of the Wheel and will give them our consideration. Many apps can be useful in more than one category, but we have chosen to use just one particularly representative category for these apps, in order to make space available to include other apps.
Ruby Rennie Panter's insight:
This is an excellent way to think about different learning tasks and how you can get the most out of them by support from apps
See on www.callscotland.org.uk