See on Scoop.it – Mobile learning for students and teachers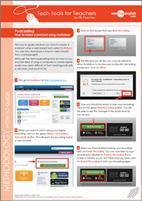 Tech expert Nik Peachey presents an invaluable series on using technology in the classroom.
Ruby Rennie Panter's insight:
Nik Peachey: "
Getting started with new technologies can seem intimidating and demanding. As teachers, we need to retain a degree of control and responsibility for what happens in our classroom, as well as our students' respect, so trying out new things that we don't feel confident about can be very risky.
If you aren't feeling confident, there will be plenty of suggestions for how to start off small by suggesting activities that students can do outside of the classroom for homework. This takes some of the pressure off you and should help you to build your confidence with the technology.
If you are new to technology, I would encourage you to be honest with your students and tell them that you are trying something new and it may not work. Involve them in the process and get their feedback and advice. Many students may have a wider knowledge of technology than their teachers, so draw on their knowledge, but remember that there is also a linguistic and educational purpose for using technology and this is where you will be able to help and support your students."
See on www.onestopenglish.com